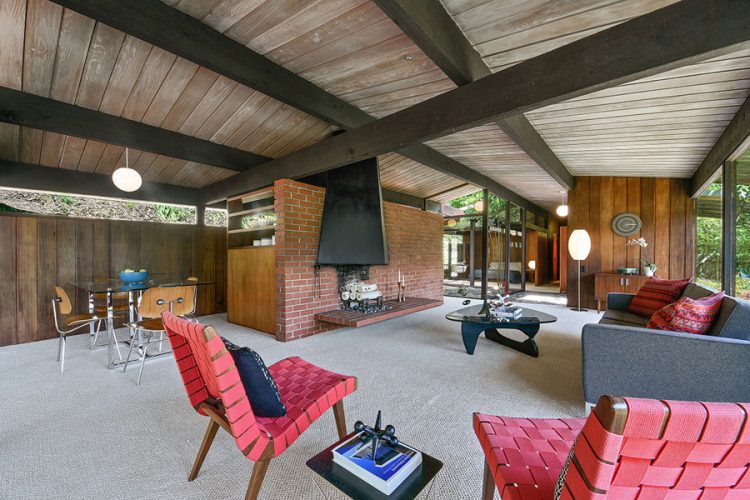 This mid-century home by Roger Lee was designed in 1954 and completed in 1955. The house has loads of character and you can tell that it was loved and very much lived in.
Roger Lee was a native Californian of Chinese decent born in Oakland in 1920 who died in Hawaii at the age of 61. A graduate of Cal Berkeley, Lee opened his firm in 1949 and quickly became one of the leading modern architects of his time along with other iconic figures such as Neutra and Wurster. Lee designed just over 100 custom homes, mostly in Northern California and was known as an architect who "designed high style for the middle class".
If you think that the wood used in décor may be worn or too shabby, you are wrong – maybe because of the way the owners lived, maybe because of renovations it looks fine and a bit weathered, which is very trendy now. Rich-colored brown wood is extensively used inside the home to give it a cozy look.
There are a lot of glass walls, both exterior and interior, they help people inside feel outside, and inner glass walls work as cool dividers that don't make the space look smaller. The outdoors and indoors merge in one here, and such glazings make the transition between the home and the terrace more harmonious.
Most of the inner walls are clad with wood of different shade to make them diverse but there's also a brick wall for the fireplace, it gives a character to the room. The home is full of cool mid-century modern furniture in various colors, these are real pearls of mid-century design. There's much light in the house and a lot of greenery that is hanging from the roof, and it makes you feel outside.