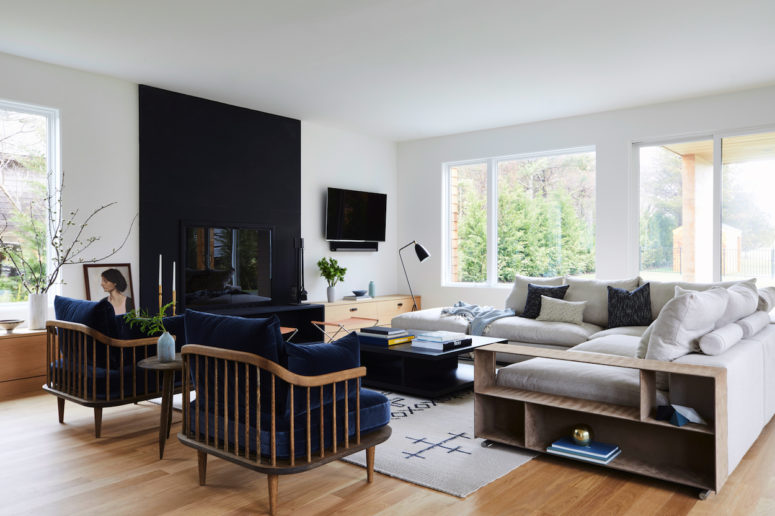 If you like minimalism, you gonna love this eye-candy outside of New York City, designed by Ronen Lev. The residence is called Amagansett and is a modern Hamptons weekend home is for a family of six, which will be used throughout the year. The owners wanted a simple space with natural touches, and they got it, let's have a look.
As the whole home is open-concept, the architects visually separated the spaces by using varying materials for the flooring. The walls are white to make the home look larger, and there are two rows of large windows to bring much light in and enjoy the views, plus they highlight the double height ceilings. The atmosphere around the house is relaxed, and the owners wanted the furnishings to reflect that, so there's much natural wood in decor and very comfy upholstery.
The focal point of the residence is the hearth, which features a fireplace constructed from a smooth black slate. Next to it you will see some natural wood furniture in cream and navy colors, the navy chairs feature velvet, which is extremely comfy and trendy.
Another space I'd like to mention is the master bedroom, which seems to be a calming and peaceful oasis. The room is done in creamy, white and beige shades, there's an upholstered bed, a rug and some draperies to cover the windows for some privacy. A dark wood mid-century modern sideboard and nightstand look bold in a neutral space. Get more of these amazing spaces below!