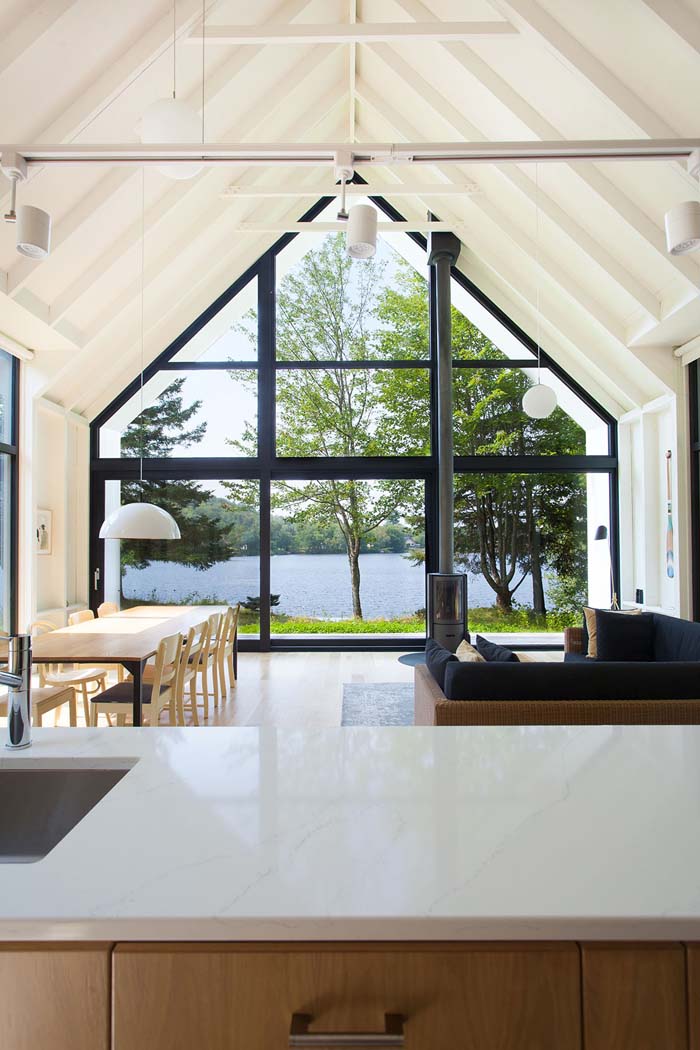 A gorgeous holiday retreat with amazing views is what most of us are dreaming about now. And the home we are sharing today is right like that – a beautiful lakeside cottage with relaxing views!
The house is 1500 sq.ft. and it was created by YH2 Architecture. The home is built of wood and features a single gable roof to make it look a bit countryside-like. The south side which is all glass, creates a direct link between the lake and the living spaces. Though you expect something rustic and rural from such a cottage, the interiors are minimalist and absolutely tranquil.
The main space features an open layout, which is so harmonious that spaces seem to be flowing into each other: the dining space goes into a living room and then into a kitchen. The dining space is done with a simple dining set, there's a hearth by the glazed wall that makes the space cozier in the evenings. The living space is done with a black sofa on a wooden platform and a small coffee table. Both walls that aren't fully glazed feature some open shelving for storage.
The kitchen is done with light-colored tall cabinets and a kitchen island. The gabled roof is highlighted with pendant lamps. A corridor that leads to the bathroom is lined up with wardrobes. The upper part of the house shows off a bedroom with some open shelving, views and an additional sleeping space for guests.