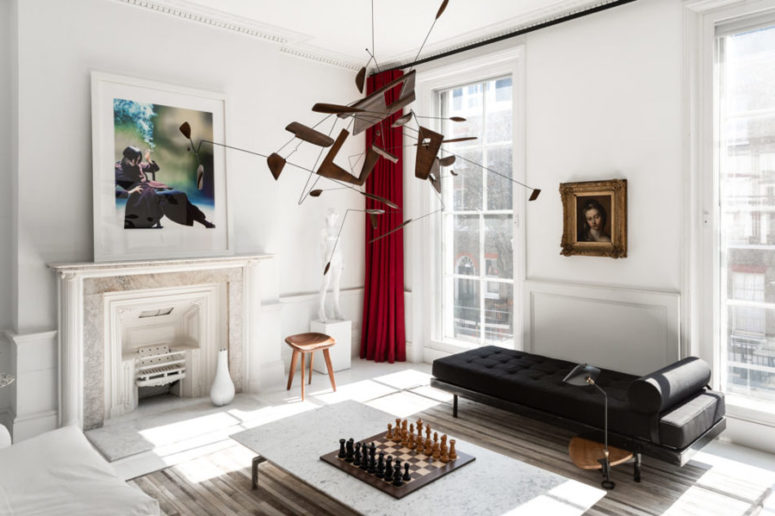 Modern homes don't usually feature neutrals or pure white but this home is none of that kind – it's done in modern style, with all-white walls and rather eclectic decor on the whole. Ready to see that all?
The house features pure white walls that create a great blank canvas for displaying designs, furniture and art. You may see several styles mixed up here: mid-century modern, vintage and minimalist, and such an unusual combo works well! The use of different wood types throughout the house offers that punch of warmth needed with all white interiors.
The living room is done in white and neutrals and bold red curtains and a black couch stand out a lot here. Bold artworks and a gorgeous abstract chandelier highlight the space and give a character to it. A TV room is also done in white and off-white, with deep red curtains, a floral sofa, a brown leather chair and footstool and a black lamp – they all stand out a lot in this neutral space.
The bedroom is also neutral and feels more mid-century modern than other rooms. A bold artwork, a rich stained dresser, a black wall lamp and moody artworks stand out here creating a relaxed mood with a refined feel. There's another bedroom, where minimalist style is prevailing. There's a blue glass wall, a platform bed, artworks and white sculptural shelves. Get more of this amazing home below!