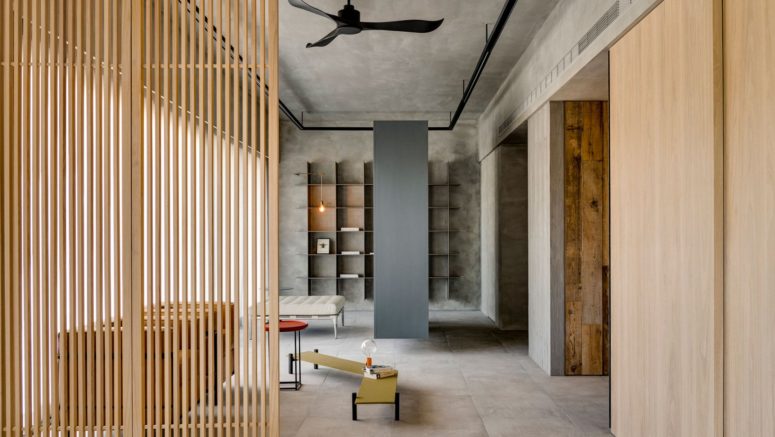 Located in the verdant Beitou Hot Spring area at the foot of Taipei's Datun Mountains in Taiwan, "Din-a-ka" is a minimalist residence designed by Wei Yi International Design Associates. Its name is translated into English as a 'covered walkway', which used to be a space of social exchange found in rural areas. The architects incorporated the aesthetic sophistication of the Chinese Song dynasty and traditional Japanese aesthetics into modernist architecture drawing inspiration from the surroundings.
The natural scenery is reflected in the selection of materials that dominate the interiors: recycled wood and exposed concrete, as well as the use of terrazzo and tatami, a Japanese type of mat made from rice straw. The palette of weathered timber, board-formed concrete and exposed cement reflects the abundant natural resources of the area but also embody "wabi-sabi". The house turned out to be airy, comfortable and welcoming, and gorgeous views were integrated into the decor with a folding wall in the living room and glass walls in other rooms.
Sparsely furnished by an eclectic selection of modernist and contemporary pieces, the interior décor of the residence adheres to a minimalist elegance which channels the clean lines, simple shapes and sparse decoration of the Song dynasty that reigned in China from the 10th to the 13th centuries before the advent of the more elaborate designs of the Ming dynasty. This kind of nostalgic minimalism that looks to the past while embracing the present, succinctly serves the designers' mission to create a home for a senior couple and their memories.