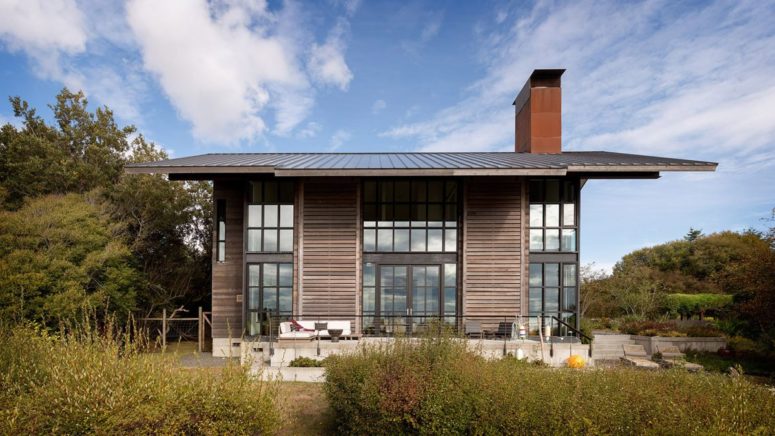 This fantastic home in Washington's San Juan Islands is a unique bridge between nature and art – it's a stylish canvas with plenty of artworks that are strongly connected to the landscape. Designed by Seattle architects Tom Kundig, the home was conceived in a way that makes the most of scenic views and plentiful wildlife in the area.
The architects chose to make a pitched roof as it provides shade and shields the interior from too much direct sunlight or the effects of strong wind and rainstorms. While it includes a substantial amount of glass, the wooden structure is totally inspired by agricultural buildings that already existed on the property. The exterior blends with the landscape thanks to the restrained, minimal color and material palettes. The entire home is energy efficient and the light and solar heat can be adjusted by sliding the four, 20-foot-tall wooden shutters that feature on the western facade. The ample use of glass windows provides unparalleled views of Haro Strait and the Olympic Mountains from the indoors, just as from the outdoor spaces.
Throughout the interior, a simple palette makes up the entire decor plan with pale wood floors and white walls, which help highlight the artful furnishings and other collector's pieces. The decor was designed in its entirety by Geremia, which included choosing new artworks as well as contemporary furniture.