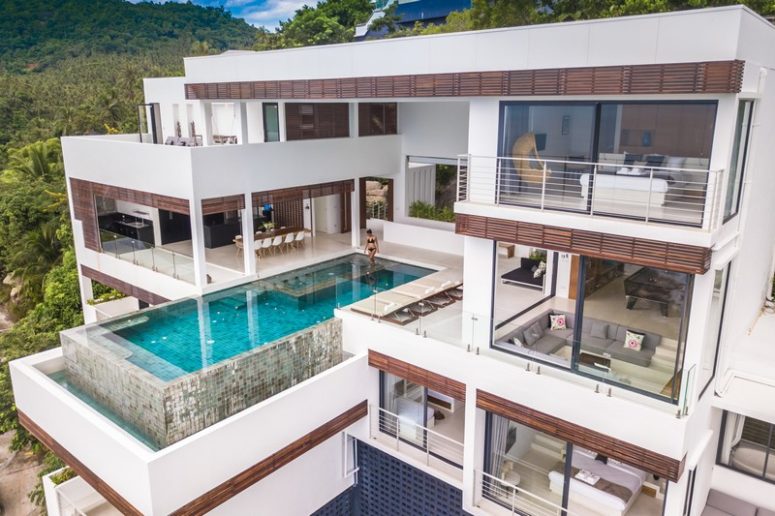 The stunning villa we are sharing today is 180 Samui by Sicart & Smith Architects, a horizontal villa with low roof-lines and a simple material palette that was built on a massive rock.
The villa is organized around an impressive pool overlooking the view, set perpendicular to the main rock and offering a dramatic feel. A three-sided infinity edge merges the pool, the sea, the sky and it seems like the swimming pool is floating in thin air.
The villa accommodates five bedrooms with further facilities such as a spa room, a gym area and a rooftop chill-out terrace. The swimming pool is surrounded by an open kitchen and pool lounge with a library and pool table. Terrazzo and teak wood are the main materials used for the design with subtle variations and accents of black, cream, polished and raw finishes for the terrazzo.
Most of the furniture has built-in features. The sofa in the lounge is sunken into the floor so that when seated, the inhabitants have a clear view of the horizon. Beds are centered in the middle of the bedrooms to maximize sea vistas. A light touch of aquamarine has been added to complete the balance and harmony of the project. This rock villa is definitely a place where you can merge with the sea and relax as much as possible.