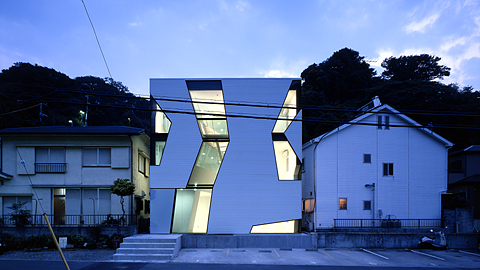 That isn't the first project by october ueda & nakagawa architects in modernistic style. The skew house also has futuristic interior but Novela exterior hide it better. Although exterior isn't as simple as it could be besides interesting windows it hasn't any feautres. It's just cube.
The clients wanted big house so to achieve that on 62.62m2 of building area architects created three stories. There also was a desire to create interesting space. The house become very unusual inside. Stairs, rooms, built-in furniture – everything has non-traditional form like windows outside. Most rooms are separated just by simple glass. Lack of colors and built-in furniture make the interior very minimalistic. That just add a bit of modernism to the house. Without doubts owners of the house impressed their neighbors.
We do not know they are modernists or savages; we decided to follow their words. This is because we could not find other choices. It is to express our inner reflections to the outside – with small lies (sometimes needs small lies to be a good man). We did not want to surprise good neighbors. Maybe a mask is needed for architecture sometimes to be a good neighbor to hide chimeric desires of architects. The word "NOVELA" means a new story came to the town.