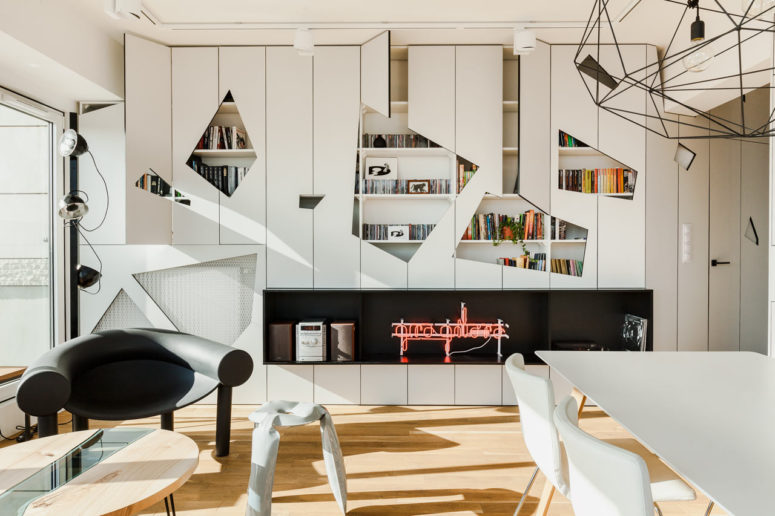 A top floor apartment that overlooks the city of Poznań, Poland, went from builder grade and unfinished to being a modern slash industrial space with bold details. Mili Młodzi Ludzie reworked the layout to make better sense and to take advantage of all of the windows, which span two exterior walls. The goal was to have glimpses of the view from the moment one enters the apartment.
They added another design layer into the interior by outfitting the built-in cabinets with geometric door fronts, which is the most eye-catchy interior detail that gives the space personality at the same time. The new layout affords an open living and dining room with uninterrupted window views in the corner of the apartment. Since the designers came into the project during construction, they were allowed to incorporate their ideas more easily, as well as keeping some of the raw, industrial elements that add charm to the space.
The kitchen, guitar room, and guest room can all be entered from either side, which gives the apartment more of an open feel and lets light further into the interior. So the views weren't disturbed, the study, which actually functions as a guitar room, has two walls made of glass so the sight lines are kept open.
The master bedroom features an oversized floral wall mural on the headboard wall and there's much light-colored wood in the décor. A small bathroom can be reached through a wooden doors that looks like a part of the wall.