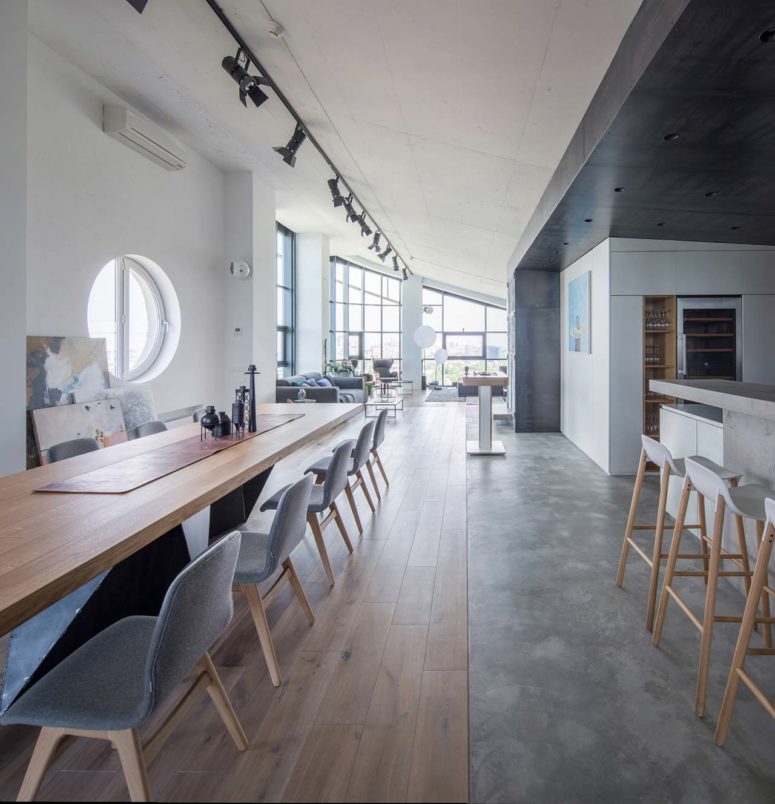 This apartment is called  P.26 Apartment and it used to be an equipment room before the 2B.group saw its potential.
The interior boasted high ceilings, some up to 6-meters (almost 20-feet) high and some sloped, which made for a visually stunning interior full of natural light. The apartment is lucky to have 180-degree views through the windows, so the layout was carefully considered to maximize the views of the surrounding city.
The public living spaces were placed along the exterior with its window-filled walls keeping these areas bright. The kitchen and dining room visually lead into the master bedroom through a sloped wall of framed windows. The kitchen resides under lower ceilings but the space benefits from the stainless steel surfaces that reflect the light. There's even a DJ stand and the owners have parties there! The master bedroom carries right into the light-filled master bath, which is only separated by a curtain. The second bedroom is at the opposite end of the apartment for maximum privacy. The bathroom is done with a free-standing sink, a shower in a glass cube and an oval bathtub next to it. The architectural look of the sink and bathtub makes a bold statement.
The furniture is contemporary and features plywood, wood and metal and comfy upholstery in a restraint color palette chosen for the interior.