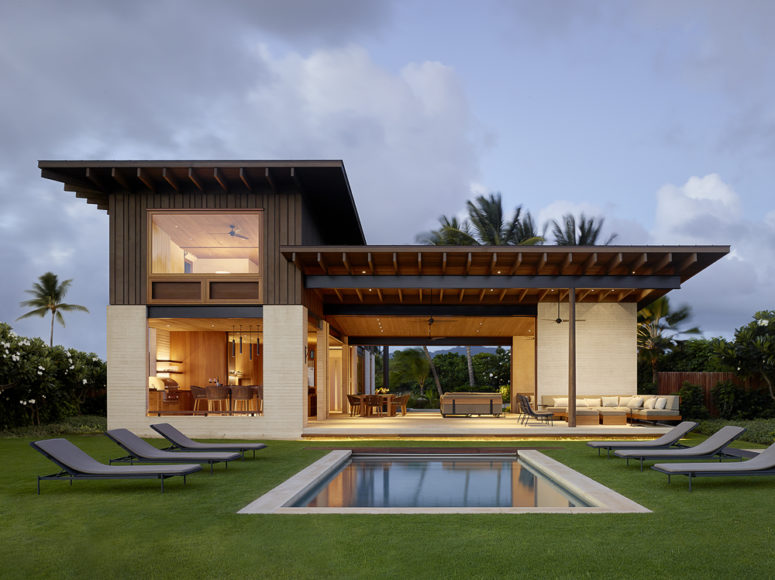 Spoiling ourselves with some tropical island inspiration is what we need in the middle of the winter! And the house we are sharing today will make you feel sea breeze on your face and hear the exotic birds' singing.
Walker Warner Architects showed a project they fulfilled on one of the Hawaiian islands, and while building it they preserved the surrounding landscape. The task was pretty hard: maximize the views while maintaining privacy for its occupants and meet the requirements of restrictions placed limiting the construction's allowable square footage. The house features an airy wall-optional construction for indoor/outdoor lifestyle and having intimate family gatherings. The home reminds both of a cabin and an ocean-faring ship, and a subdued and sophisticated palette of materials and colors remind of the sand, volcanic rocks and trees around.
All the spaces of the house can be opened to outdoors with large windows or glazed walls, each space from the living room to the guest bedrooms are both indoor and outdoor ones. The views are captured by the same windows and glazed walls. There's much natural wood in the indoor decor, and you may see a selection of modern furnishings of wood and comfy upholstery. As the furniture has rather a unified look, the whole home seems to be one large space divided with walls here and there for some privacy. Enjoy the pics of this beautiful retreat below!