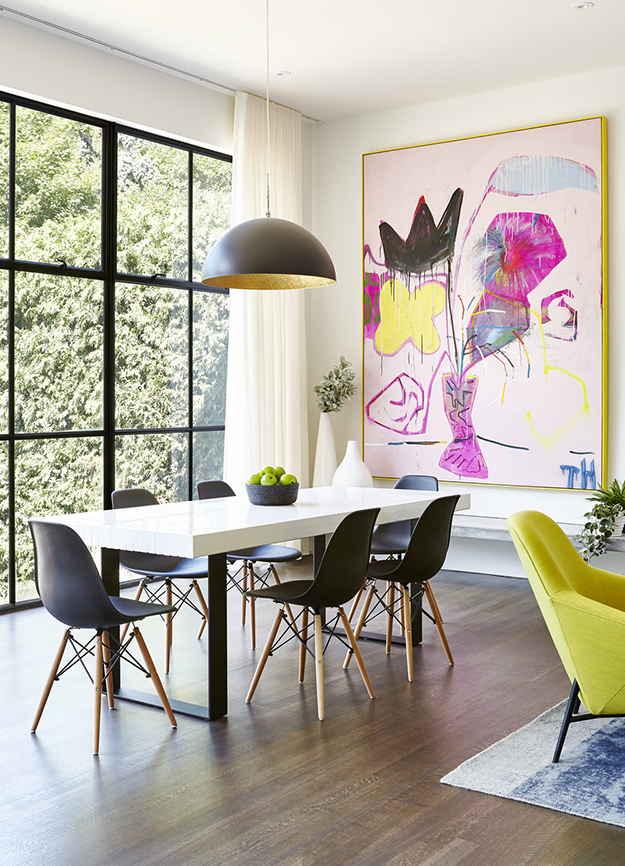 This newly renovated home in the Roncesvalles/High Park neighborhood of Toronto is an absolutely gorgeous example of taking an old home and making it modern and functional. Lets' take a closer look at it.
The dining space is done with a monochromatic dining set and a colorful artwork, and the coolest thing here is a framed window that provides gorgeous views while the owners are eating. There's a cozy seating space with a fireplace, a bold neon chair and a creamy sofa. One wall is taken with a large storage unit and a TV.
The kitchen is all-white, with sleek cabinets, a marble backsplash and a marble kitchen island. The space is highlighted with large suspended bird cages with faux birds, and there's a wood covered wall with built-in appliances. The second living room is done in white and with wainscoting to build up a cool backdrop for colorful furniture and accessories. There's a navy sofa and matching curtains, mauve chairs and a built-in fireplace. You can see some metallic touches that add a chic feel to the space.
The master bedroom is a peaceful and comfy space, with a grey upholstered bed and grey dressers that act as nightstands. Some metallic touches and mid-century lamps make the space more interesting, and pink bedding softens the space.