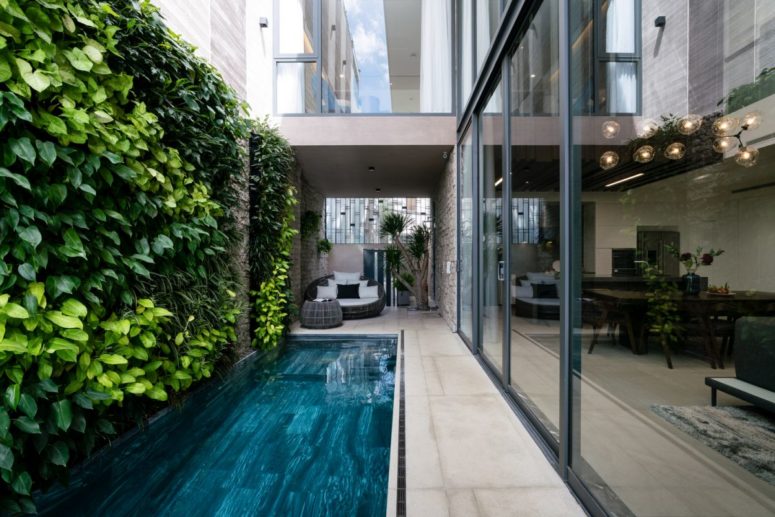 This luxurious modern residence In Vietnam has a lovely story behind it: it stands on the foundation of an old family home, which no longer exists. This home offers a total of 600 square meters of living space organized on three floors and shares a special relationship with nature.
The house features full-height windows which welcome the outdoors in, green walls and iconic furniture. The ground floor contains a guest room, the kitchen and the dining area and has a direct view towards the swimming pool. The second floor houses two bedroom suites for the family's two sons and the third floor is where the master bedroom suite is situated. The house has a powerful design inside and out, being built mostly using raw materials such as metal, rough stone and wood.
The living room and dining area have a direct view towards the pool and the green wall. The living area is a double-height volume with a glazed facade facing the pool area. In the dining area, a live-edge table adds warmth and deep natural beauty to the space. The kitchen island acts as a divider between the cooking area and the rest of the floor plan.
The master bedroom suite features a sculptural tub as part of an open bathroom design. Each bedroom, not only the master one, has vast storage spaces with sleek custom-made furniture modules. The bedroom suites have access to covered balconies and this brings them closer to nature. Nature seamlessly sneaks into the house, becoming a part of its interior design and decor.