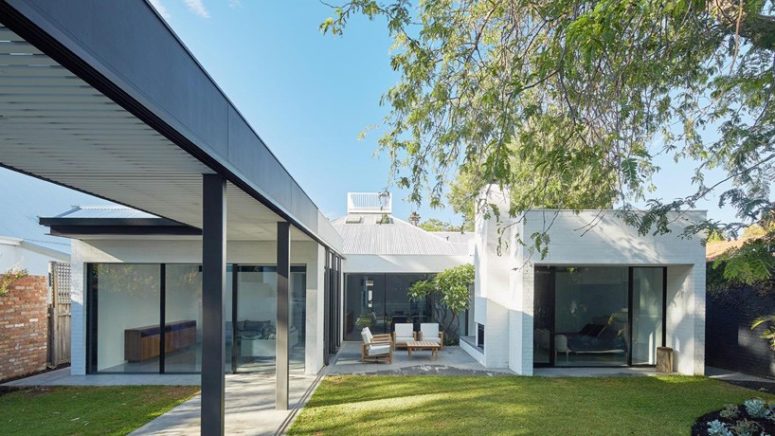 An extension project completed by David Barr Architect named the Claremont Residence is set in a pre-war suburban house located in Perth, Australia. Surrounded by greenery, the clear grid layout of the existing architecture informs the new addition's planning, with each of the main spaces – dining room, living room, bedroom – located separately, and some of the rooms seem to be placed outside and just covered with glazings.
David Barr capitalizes on the residence's spacious plot and landscape; explored by shifting the plan and extending the house into the garden and capturing views of the trees and neighboring gardens. Distinct spaces have been distributed externally – a courtyard, a formal lawn, a raised external dining area and pool – and then drawn back into the house through large areas of glazed openings. Roofs and walls protect the owners from the excessive sun, which is a frequent thing in Australia. This residence shows up the concept of modern indoor-outdoor living, and lets the owners enjoy the outside spaces at their best.
This seamless boundary between inside and out is highlighted by the large sliding doors, their frames concealed and facing to the garden and courtyards. Deep window reveals open to the north, while operable timber screens shield western windows from the sun. Internally a restrained palette of concrete floors, plaster walls and American walnut timber joinery gives the client's art and furniture collection prominence and focus, while simultaneously creating a backdrop for their young family to add vitality. Most of the rooms are laconic and simple, and so is the furniture not to distract attention from the courtyard views.