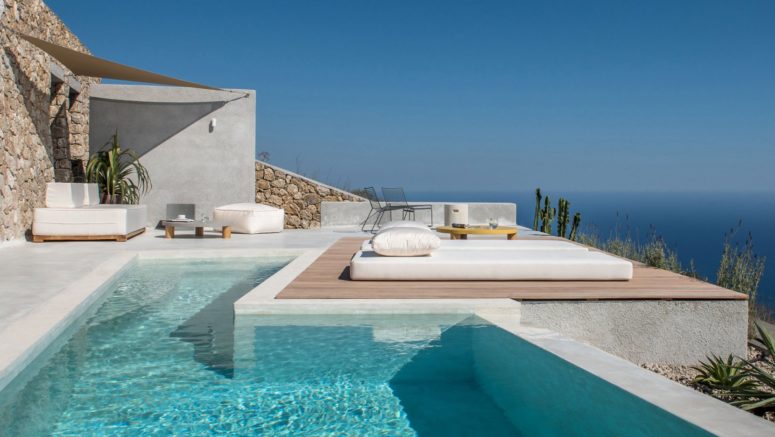 Everyone who hasn't been on a holiday yet, is dreaming of one. for those of you who are dreaming and just for suckers for gorgeous homes we are sharing this Santorini home by Kapsimalis Architects.
The house is placed far from tourist crowds, perched high on a steep hillside of Profitis Ilias Mountain. This graceful one-bedroom holiday house enjoys sweeping views of the Aegean courtesy of its favorable location and the occupants have an impression that they are floating above the sea. The architecture of the house takes advantage of the island's traditional house-building techniques and aesthetics of stripped down modernism.
The architects were inspired by the island's local cave houses, locally called "yposkafa", which are dug entirely into the volcanic rock without any foundations. They nestled the house entirely into the mountain slope ensuring the least possible imprint on the landscape. The house has an elongated form with a 10-metre glazed façade that ensures that the living areas, an open-plan living and dining room and an adjoining bedroom, enjoy generous views of the sea. The use of sliding, floor-to-ceiling glass doors also makes it possible for the interior areas to seamlessly blend into the exterior terrace.
In the interior, the architects have gone for contemporary minimalism underpinned by a subdued palette of white, grey and beige that is complemented by the warmth of natural textures such as oak and walnut wood, and the starkness of black steel surfaces. Meanwhile, an eclectic selection of furniture provides splashes of color. As expected, the living spaces are bathed in daylight thanks to the glazed façade while the two bathrooms, one on either side of the house, feature discrete skylights that create a more ambient atmosphere.