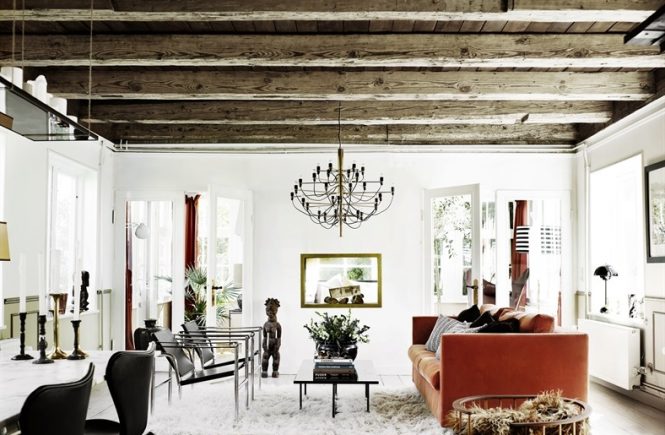 This stylish Danish house by the seaside isn't your typical coastal home. Dating back to 1885, this one is a perfect blend of rustic original elements and clean modern details, it has a wonderful combination of styles, textures and of course the Scandinavian brightness. Let's take a closer look at the spaces.
The living room is united with the kitchen and dining room, which is a popular solution today – it allows to get maximum of the space. There are original wooden beams on the ceiling and whitewashed wooden floors; that is typical for Scandi spaces and adds warmth to the space. A bold orange sofa and a fur rug play the same role here; the dining space is defined by a marble dining table and black leather chairs. The kitchen shows dark stained wooden cabinets and open shelving above. The kitchen island is of stainless steel, and it doubles as a space divider.
The master bedroom is a whitewashed attic space, with white beams and very light floral wallpaper. There are green curtains, colored bedding and textural warm rugs to add interest to the space. All the storage is done with white cabinets here and there, so the space looks uncluttered.
The bathroom floor is clad with graphic printed tiles, there's a shower with black walls and a fantastic wooden sink, which looks so contrasting the modern faucets. A wooden stool and vases in the shower add warmth and echo with the sink.
One more pearl of this home is outdoor spaces: a terrace and a balcony. The terrace features a dining space with a pallet table and a couple of comfy loungers. The balcony is furnished with comfy and cozy wicker pieces and show amazing sea views.