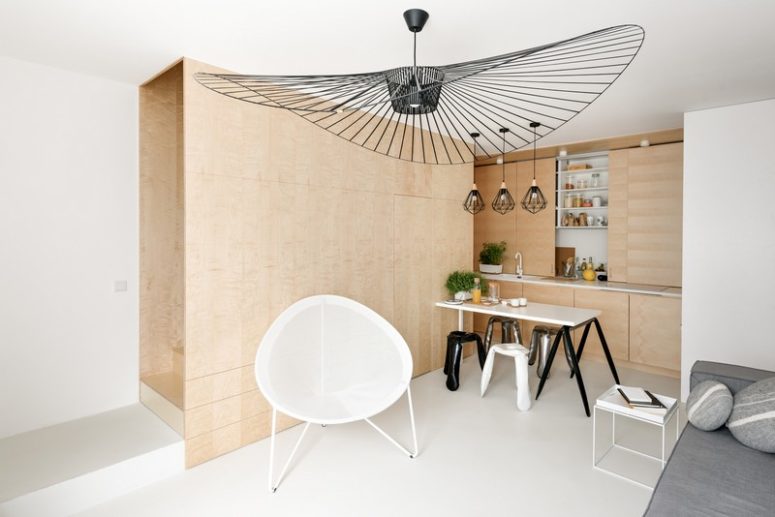 Small homes have several points, because of which decorating them can be tricky: first of all, there's enough space for storage, second, it's difficult to keep the style cause of lack of space, third, you are restricted to lighter colors, and so on. But all these problems can be easily solved with a smart approach, and this duplex will show you how.
Poland-based Studio 3XA completed the design of a small duplex apartment in Wrocław, Poland. The 914 square-foot space consists of a three-bedroom, two-bathroom division that includes a work area and an open kitchen and dining space.
This stylish home exhibits a series of ingenious storage units and multi-purpose furniture solutions that make it extremely flexible. A plywood stairway in the middle unveils a built-in refrigerator, chest of drawers and small utility room. This way, all the clutter in the living area can be easily removed from sight.
A harmonious design makes the place highly appealing. Elements were deliberately kept light and neutral, with white serving as the dominant color for the resin floors, walls and various furnishings. Simplicity was highlighted with the use of plywood that provided a degree of warmth and served as a uniting motif throughout the apartment – functional yet decorative. The bold, black lighting fixtures complement the unobtrusive ceiling lights, resulting in a flexible lighting scheme. A modern outdoor terrace adds to the cozy feel of this Polish duplex.