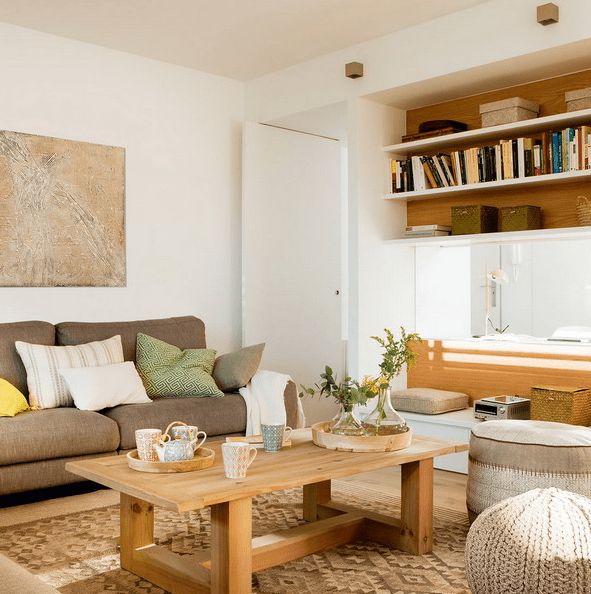 What could be better than a spacious apartment? Only a spacious apartment that is convenient for the whole family. Today we are sharing an example of such an apartment, this is a  Spanish retreat of ​​67 sq.m.
This dwelling is convenient for everyone: a school kid, parents who work at home and lots of guests who come. To fulfill this task, the designers opted for classic design techniques: light-colored walls, an open layout and some unusual ones that you'll see in the pics.
The living room is an open layout with a living zone, a kitchen, a dining space and a working one. This multi-functional space features proper zoning, and the home office is a partition between the spaces, which is still very delicate, and all the parts are done in the same style and colors. The dining table was chosen very carefully to accommodate all the guests that can come. Poufs and benches were used as seats, and they may be placed under the table when not needed.
The master bedroom also serves as a dressing room. There's a large built-in wardrobe here, which is a typical solution for small rooms. But this design fantasy does not end there. Pay attention to the headboard: it has built-in nightstands, which are enough for fixtures and small items.
The kid's room is separated from the home office with a partition, which also serves a ladder for the bunk bed. There's a niche in the wall to store toys, and colorful buntings and cushions add a cheerful feel to the kids space.