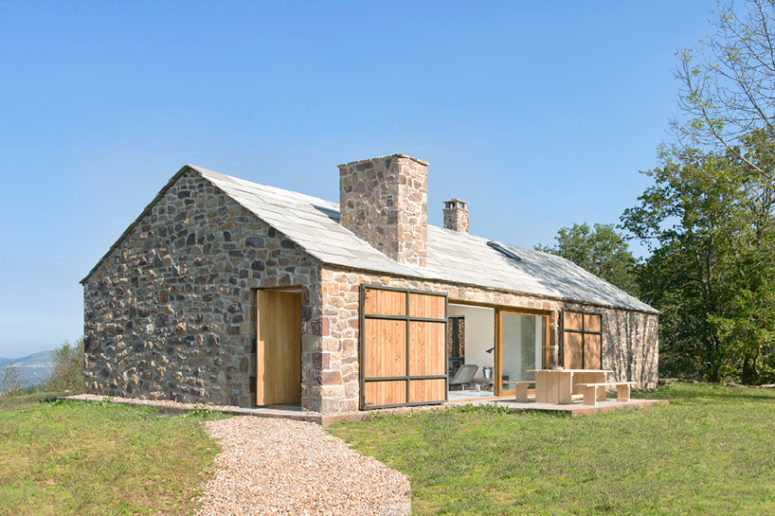 Amsterdam-based studio Laura Alvarez architecture has designed a rental holiday retreat in the natural park in the north of Spain emerging from a stone-ruin within a more than two-hectare terrain of natural landscape. The home typology is based on a traditional construction of the area called 'cabaña pasiega' (peasant cabin) but with a contemporary twist.
The strategic location of the construction on top of a little hill facing south grants impressive views towards the valley and from the mountain. Two big panoramic windows in the living room facing opposite directions create a beautiful scenography of mountains, clouds, and trees. These two openings allow to enjoy the impressive views towards the valley and mountains from the spacious living room in the center of the house.
Two bedrooms are situated next to the living area, on the eastern wing, in the most private side, both with their own bathroom and openings to the infinite landscape. Thanks to their generous height, a mezzanine on top of the bathroom core, allows for additional sleeping arrangements. The high performance glass warms up the interior in the winter and the big wooden shutters protect from heat gain during summer. The rough exterior stone-walls and roofs contrast with the delicate interior wooden structure and details.
Villa Slow is a house of subtle contrasts: rough-delicate, open-closed, wood-grey, interior-exterior, traditional-modern. Wood elements give a warm feeling, whereas white helps understanding the building envelope. A combination of classic sitting furniture and minimalist elements create a very calm space from which enjoying the outstanding natural setting.