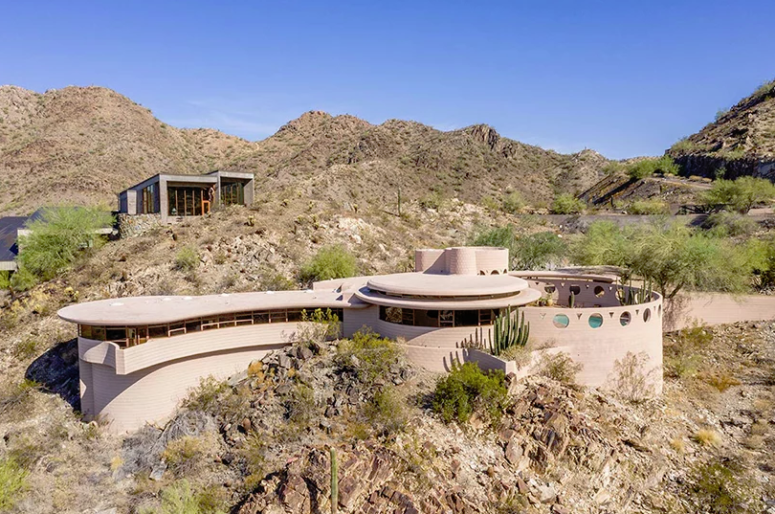 Frank Lloyd Wright, a famous American architect, designed some very beautiful homes in his own unique style and vision. If you are a sucker for his architecture and design, you'll like this Circular Sun House.
Located in Phoenix, Arizona, the 3,095-square-foot house is an exceptional example of the architect's late work, weaving in and around the natural landscape and boasting spectacular views over the palm canyon and across the valley. Constructed of concrete blocks colored to blend with the boulders surrounding it, the Circular Sun house was designed in 1959 and completed in 1967 by the architect's apprentice. The innovative construction showcases Frank Lloyd Wright's explorations with different geometric forms — in this case, intersecting circles and arcs.
The residence consists of 3 bedrooms, 3 bathrooms, a private second-story office with 360-degree views and a garden terrace pool lined with mother of pearl. Handcrafted in Philippine mahogany throughout, the furniture complements its design with its mid-century modern style. The spaces are curved and arched and are furnished with mid-century modern pieces and sculptural units to make them stand out. You'll see much plywood and natural wood in the decor, which make the spaces cozy and welcoming.
Overall, the innovative construction on the edge of the Phoenix mountains preserve create an excellent living environment while capturing the ever-changing patterns of light and shadow as the sun travels across the canyon. The house looks as a spaceship that landed right in the desert, it just wows!