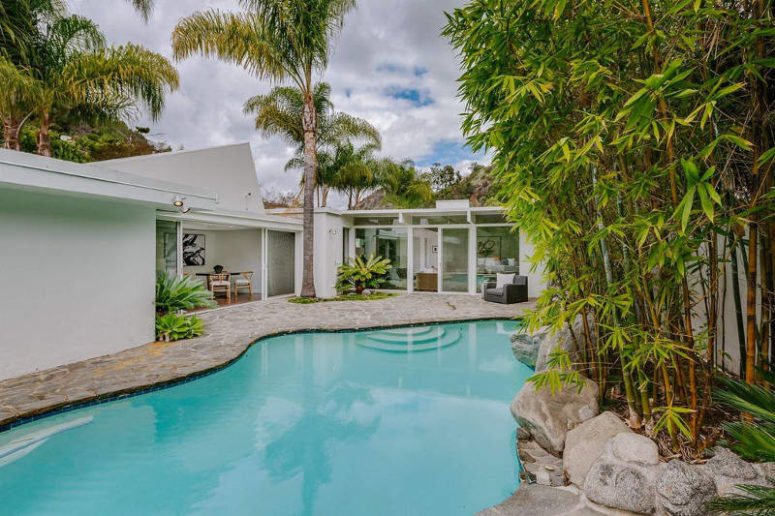 We are used to see small guest houses in the garden or just a bedroom somewhere in the house but a whole spacious home only for guests? Only a celebrity can afford a whole mansion for friends and family coming! And yes, this is a celebrity's home – this is a guest house of Taylor Swift. Let's take a look how Taylor receives her guests.
The house is surrounded with palms and bamboo to add privacy to it and to the pool. The poolside deck is surrounded with lush greenery for more privacy, too, and there is modern upholstered furniture, everything here is for comfort.
The bungalow is mid-century modern for maximal coziness and an inviting feel. All the bedrooms and other rooms are spacious and have an access to outdoor areas, sliding doors inspire outdoor-indoor living. The guests needn't worry about privacy or safety: state-of-the-art surveillance cameras installed throughout the property keep them feeling safe. Strategically placed skylights bring in light and frame the palm trees outside. The house hosts an adjacent 1,000-bottle climate-controlled wine cellar.
Every room is done with classic mid-century modern furniture, flowing with the home's architectural style. Each room has its own colorful accents: orange, beige, navy and you may see various bold artworks here and there, they are traditional for mid-century modern style. Look at the photos of this beautiful home below and try not to feel envy!