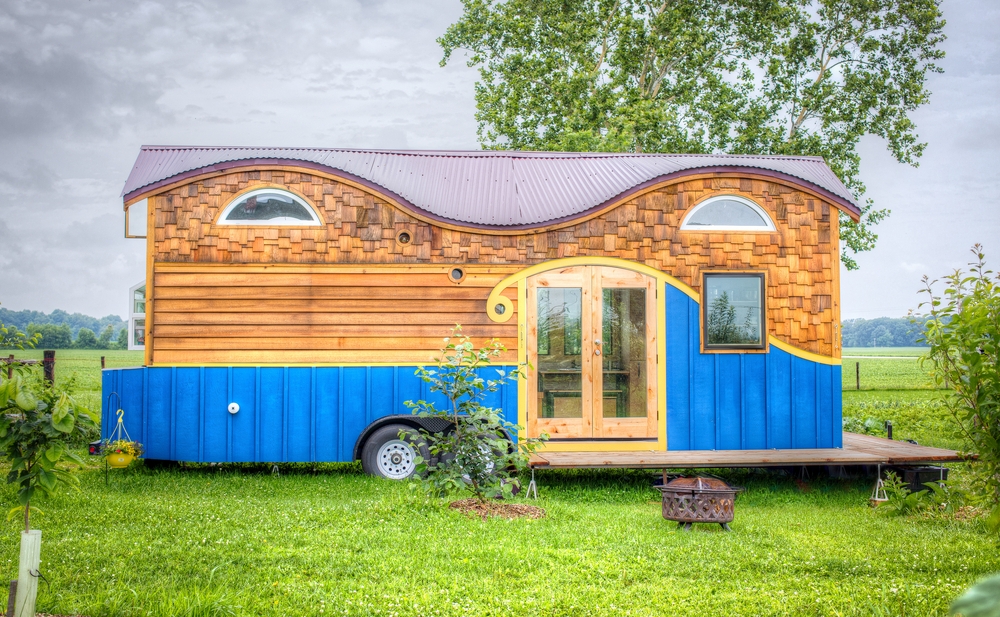 Meet the Pequod, this is a tiny house on wheels that was built for a family of four currently residing in Indiana, USA. At 26′ long, this house weighs 11,500 dry and maxes out at 8′-6″ wide and 13′-6″ tall.
The wavy shape of the roof is a function of maximizing heights in the lofts, lowering ceiling heights elsewhere, and aiming for a "whimsical" design aesthetic. While pure and simple in theory, in reality it proved to be very challenging and time consuming to execute. In fact, this house was so challenging to build, that it sells for quite a bit higher than our normal priced houses.  For those curious, if we were to build a replica of this house it would sell for $80,000. A build such as this is the best of the best, and design/quality of this caliber is not cheap.
The inner design totally continues the outdoor one: it's comfy, rustic and with some stylish industrial touches. The home is a real masterpiece of wood-making: there are structural insulated wall panels, handmade archtop French Doors and handmade operable arched windows in the lofts, custom crafted hickory and walnut countertops and welded steel catwalk with plexi glass flooring. The wood used in décor is light-colored, and that makes the space airier and makes it look bigger inside. Three layered cladding including painted board and batt, clear grain cedar lap siding, cedar shingles, and a custom  shape designed by the customer make this tiny home unique and original. Here you will find enough storage space for everything due to the smart solutions used by the designers.