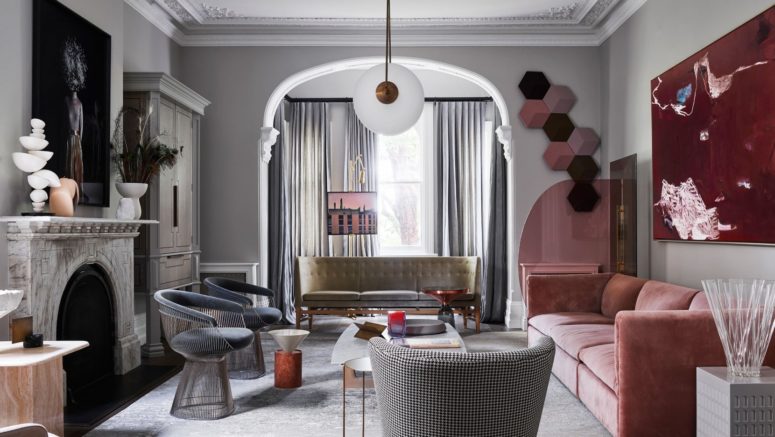 How do you transform a grand historic house into a youthful contemporary family home without diminishing the grandeur of its architectural heritage? This was the challenge faced by Claire Driscoll Delmar, and she managed to do it right reflecting their passion for art, travel and fashion. Given a completely blank canvas to work with, Claire has boldly complemented the house's period features with contemporary furniture, sculptural lighting, textured fabrics, playful wallpapers and bursts of color, as well as the clients' playful art collection of paintings, photographs and sculpture wherefrom the project, Art House, takes its name.
From the formal wainscoting and parquet flooring, to the ornate ceiling cornices and roses, to the sculpted marble mantelpieces and the arched openings, the refurbished décor not only speaks of the building's history but also reflects the clients' love of European architecture. Swathed in a muted palette of white, and light and dark greys, the refurbished building fabric was transformed into an austere canvas upon which the designer has unleased her creativity by adding playful touches of vibrant color, sumptuous textures and playful forms that imbue the spaces with a sense of whimsy as much as elegance.
A series of bespoke furniture by Sydney designer Jonathan West, such as the hallway sideboard, kitchen stools, and bedroom headboard and bedside tables, are interweaved with contemporary and modernist pieces. Every room has been meticulously curated, harmoniously balancing old with new features, muted tones with colorful accents and polished surfaces with soft textures, as part of an interplay between the masculine and the feminine psyche.