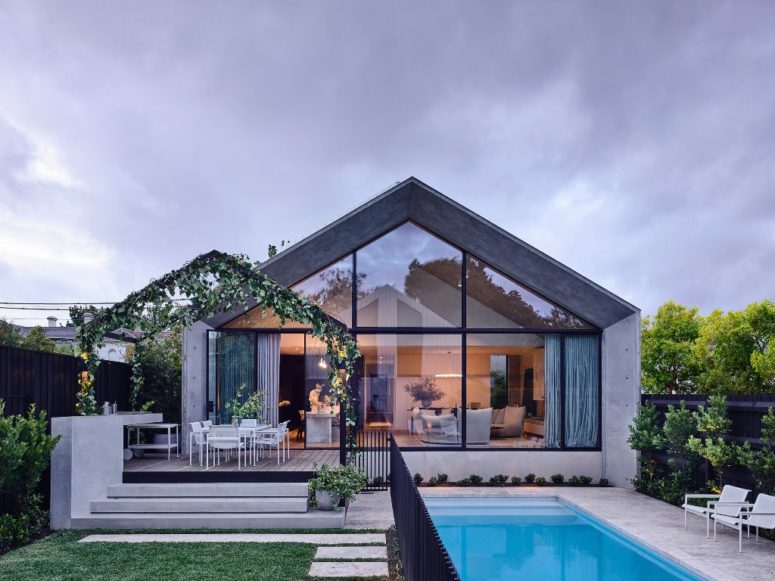 Designed by architect Pete Kennon of Melbourne-based studio Kennon+ for a young family of five, these four bedrooms home seamlessly combines a quaint Victorian cottage with a modern, concrete extension of minimalist grace and formalist rigor. Developed in close collaboration with its owners, award-winning hairdresser Joey Scandizzo and his wife, TV personality Jane Scandizzo, the house is a direct architectural response to the couple's lifestyle and sensibilities.
While the meticulously refurbished Victorian building is characterized by period embellishment – on the outside, the weatherboard clad façade is adorned by ornamental cast iron lacework, with ornate marble mantelpieces, plaster cornices and ceiling roses inside – the in-situ cast concrete extension is a paradigm of minimalist design. The concrete structure imbues the extension with a sense of robustness conveying permanence and stability, but at the same time, its elemental, arched-box shape delineates the archetypal form of a house evoking a feeling of homeliness. What's more, the repeated gabled shape echoes the architectural heritage of the original house, harmoniously blending old and new despite the stylistic differences.
Taking its cues from the tonal softness of the exposed concrete surfaces, the interior colour palette of neutral whites, greys and blacks creates a subdued and calming ambience that is enhanced by a minimalist aesthetic of clean lines and sparse décor, while white-on-white compositions allude to the multiple white tones used on the heritage façade. Natural wood and marble surfaces complement the organic rawness of the in-situ concrete while rattan, leather and cotton furnishings enrich the interiors without upending the prevailing color palette. At Scandizzo House, form and materiality work in concert ultimately resulting in a peaceful haven for the family to grow into.