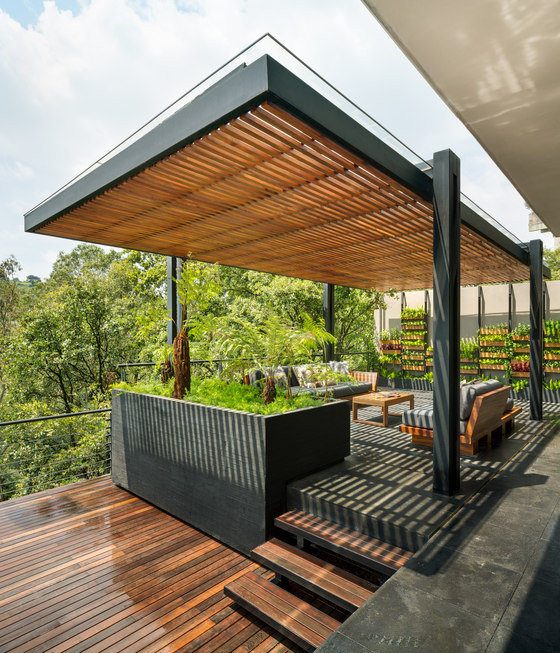 The thing that people are usually missing in big cities is a touch of nature but this apartment in Mexico City is none of that kind. It features several terraces and gardens interwoven in its design so that the spaces seem to be flowing one into another.
The apartment creates a dialogue between the building and environment, it unites indoors and outdoors into a whole space. There are two terraces and a pergola in the northeast, the southwest houses a more private garden that connects to the bedrooms, the TV room and kitchen.
The first terrace accommodates a living and dining area with a vertical garden built of wooden boxes reclaimed from the shoring system used in the construction. The second terrace rests on a lower overhang, suggesting a closer relationship with the landscape. The private garden features a pool, a garden of energy stones, while the third is a vegetable garden.
The indoor section has an axis with access to the rooms crossing through the common, semi-private, and private areas. As for decor, both indoors and outdoors you'll see stone, concrete, wood, leather and rather a restraint color palette: rich and honey wood hues and tones of grey. Using the same materials and colors both indoors and outdoors helps to visually merge these spaces into one.