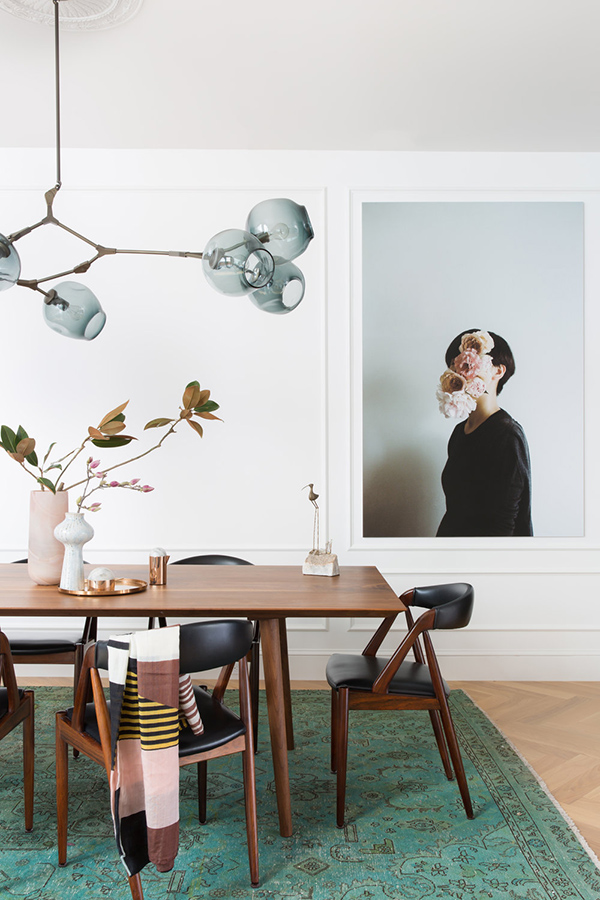 I love absolutely everything about this home in Noe Valley designed by Regan Baker. The bold, large photography art, the subtle moldings in the dining and living rooms, the mid-century furnishings, the brightness, bits of drama with color, wallpaper or black walls. Let's take a closer look at every space.
The dining room is done with a chic mid-century modern dining set with a wood table and chairs of wood and black leather. To make it stand out even more, there's a green printed rug and a gorgeous matching green glass bubble chandelier. Look at that cool modern artwork – isn't it amazing? A black cupboard with frosty glass doors acts as a storage piece and a space divider.
The kitchen is modern and white, with sleek cabinets, open shelving and a two-level kitchen island, which features a wooden top for a breakfast zone and marble for a cooking one. There's an entrance to the terrace with a pallet wall garden and modern furniture.
The living room features a unique hexagon shaped wall with windows, it's airy and fresh, with a black sofa and wooden furniture. Lots of greenery enlivens the space, and cool artworks are also present.
The master bedroom features a large artwork, a yellow upholstered bed with a yellow bedspread, a comfy rug and some books stacked right on the floor. The master bathroom is minimalist and done in white, its decor reminds of the kitchen. Now scroll down to see more of these gorgeous spaces and get inspired!