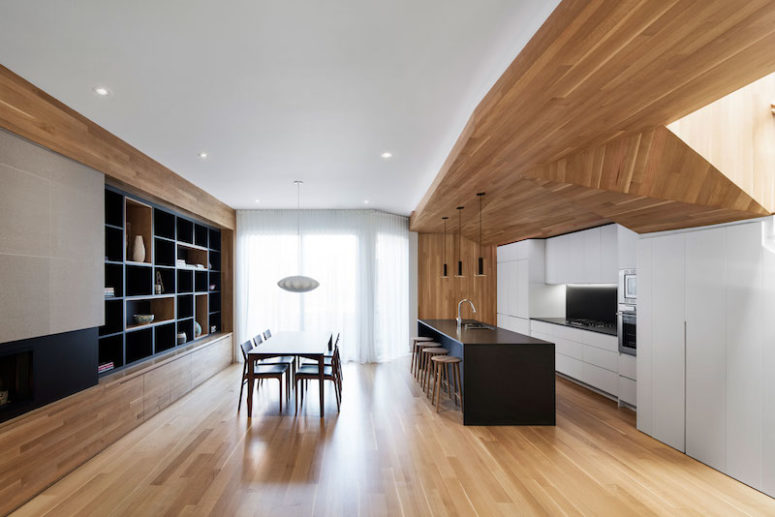 The location and immediate surroundings of a residence have a big impact on its interior design and ambiance in some cases. A house or an apartment with a view of a large park can be influenced by this and can feature an interior design that uses natural materials and fresh colors. This influence can also reflect itself in the decor in other ways as well. A suggestive example is this duplex located in Montreal, Canada. It was recently renovated by MXMA Architecture & Design.
The duplex has a view of Lafontaine Park and the architects chose to use this detail in their design. Their studio specializes in creating memorable designs and exploring new ideas which can offer their clients original experiences. They completed this project in 2016 and during the process they were inspired by the abundant foliage in the park.
In order to reflect the impact that nature had on the interior design of the apartment, the architects used a lot of wood. It became a part of the design in the form of walls, floors, sculptural ceilings and furniture. All the wood gives the spaces a really welcoming and pleasant look thanks to its natural warmth.
The wood elements are complemented by contrasting features. A modern kitchen island in black occupies a central role in the design, having three sleek pendant lamps above it and being complemented by a dark dining table and matching chairs.
The social area on the lower level also has built-in shelves which blend natural wood with black details. A built-in fireplace gives the space a particularly comfortable ambiance. The color palette here is based on light shades and the decor is very open and fresh throughout. Despite the change in color, the entire duplex has a very homogenous look thanks to all the wood which defines all the rooms.