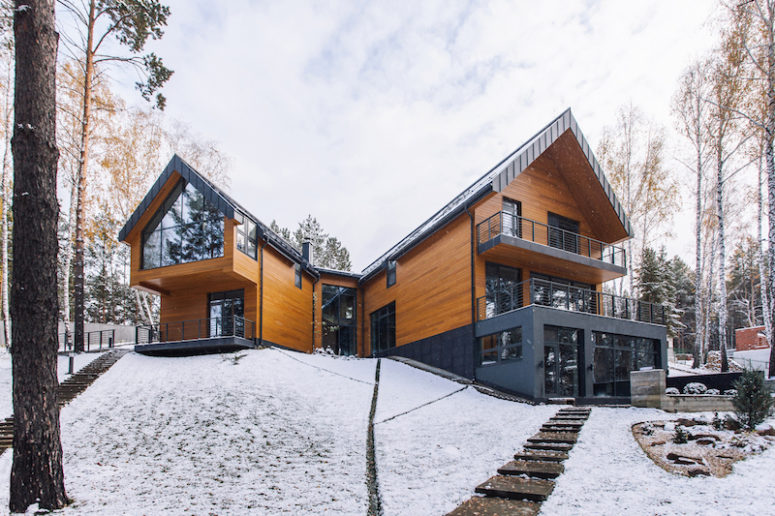 Located in Tyumen Oblast, in Russia, this A-frame house  occupies 344 square meters of space and was completed in 2016 by A61architects and YYdesign.
The design of the house is inspired and shaped by the surroundings. The structure sits on a sloped site and this inspired the architects to partially build it underground. The interior spaces are organized on two floors and in two volumes, each containing a certain type of rooms. The exterior of the residence is wrapped in wood and this allows it to match the surroundings and to establish a close connection with the landscape around it.
The social volume which contains the living room, dining area and kitchen is larger than the private zone and also includes a really cool nook with a fireplace an adjacent firewood storage nook and comfortable armchairs. This is practically the basement level. A staircase is once again the link between this space and the rest of the living and lounge spaces. A wood-paneled wall sets a warm and welcoming mood while the rest of the walls and the ceiling are kept white. The glass staircase railing maintains transparency between the volumes.
The sleeping areas and the bathrooms are simple and mostly decorated with warm and earthy hues and a lot of wood. Crisp contrasts are created with the white backdrop and large windows and skylights are used to brighten up the spaces and to open them to their surroundings by letting in natural light and wonderful and refreshing views. A glass walk-in shower perfectly fits in the corner. There's a really nice minimalist which defines all the spaces inside the residence, allowing them to be clutter-free and yet really efficient and functional.