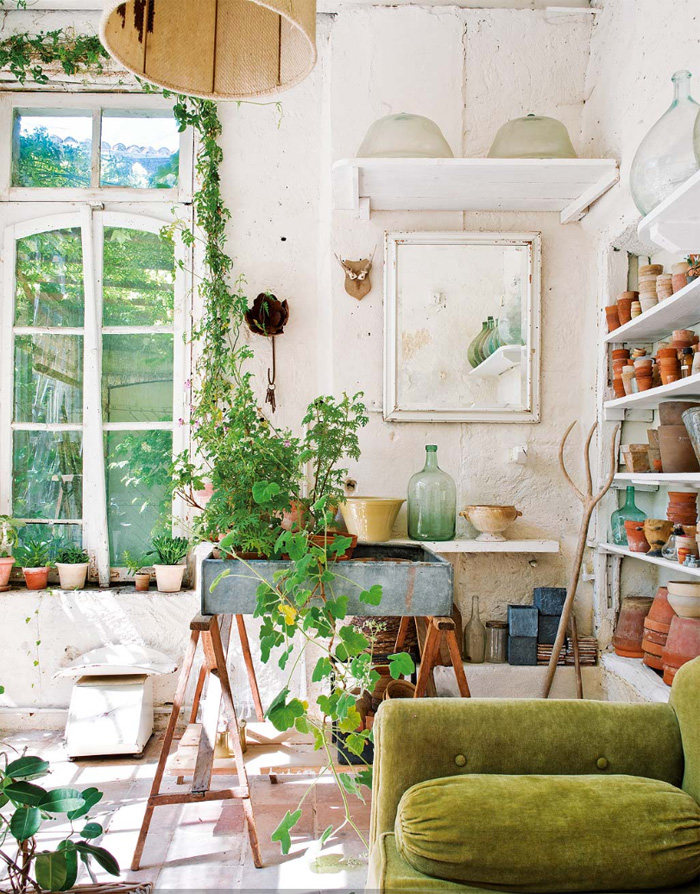 This home in the south of France home belongs to New York designer Annie Moore at Nuevo Estilo. Beautiful architectural details with some rustic elements and an eclectic blend of classic furnishings with a nod towards retro really impress.
In the dining room, Annie Moore chose to cover the walls with oak-printed wallpaper that bring much nature in. A vintage-styled table blends with IKEA chairs, and a stained wooden cabinet next to the wall doubles as a bench and brings a cozy touch.
With its moldings, its parquet floor and a marble fireplace from the times of Louis XV, the living room reveals all the features of a classic old country house near Carcassonne. To add to the character, American designer has created an eclectic collection of curiosities in a natural atmosphere. I like a low rustic coffee table and stump stools that bring a cool rustic feel to the room.
The bathroom has vintage decor inspired by the 60s mixed with rustic wooden accessories and a modern twist. Annie used retro wallpaper with a spike print, which creates a country house atmosphere. A modern mirror and faucet bring a modern vibe into the space. Rough wooden furniture, parquet floors and a fluffy carpet make the bathroom cozier.
To make the classic garden more modern and lightweight, the owners placed 70s inspired black plastic chairs. Planted herbs, lavender, hydrangeas and plants in antique style pots turn the garden into a heaven.