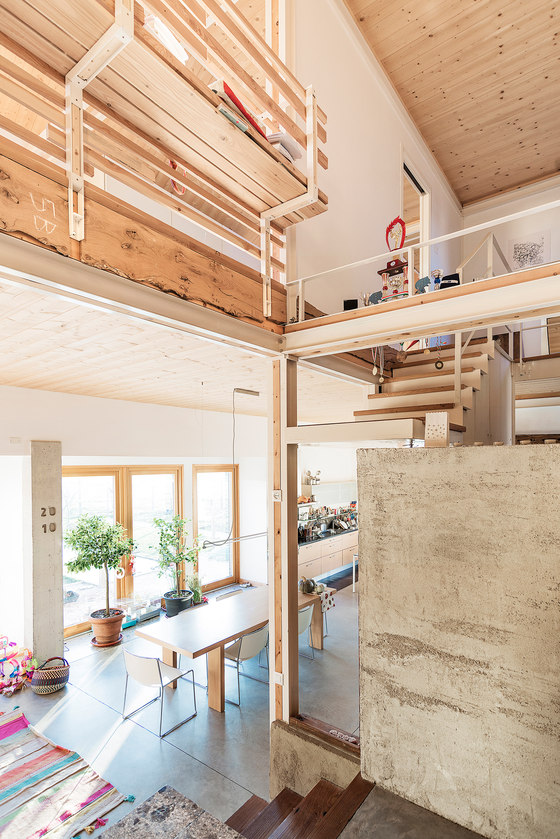 The design of this house in Italy was an opportunity to deal with the problem of constructing in a radical and anti-cyclical way. The main structure of the house is made of wood elements joined together without glue or screws; wood contributes to the living comfort by filtering and purifying the air inside the house. The wood is a good thermal insulator, and it can prevent condensation and mold, especially if not glued and untreated. Wood is a renewable construction material and, untreated and pasted, can be easily reused, that's why the walls of the house are wood stuck. The internal structure is a steel frame, the exterior is made of a ventilated facade in ecological fiber cement.
The interior décor is modern with some rough rustic touches. The floors are concrete but all the rest is clad in light and warm-colored wood, and that gives the interiors fantastic warmth, there are a lot of windows that bring light in and make the home even cozier. Some elements like the stairs or the doors are done in rough and cracked wood for a natural touch and to give the interior a character. Colorful boho textiles add a playful touch to the calm wood-clad interior. Various belongings are made a part of the décor and make the interior more cheerful.
The whole interior leaves an impression of a cool vacation cottage due to the extensive use of natural wood cladding and simple uncluttered interiors. Get more pics of this beautiful house below!