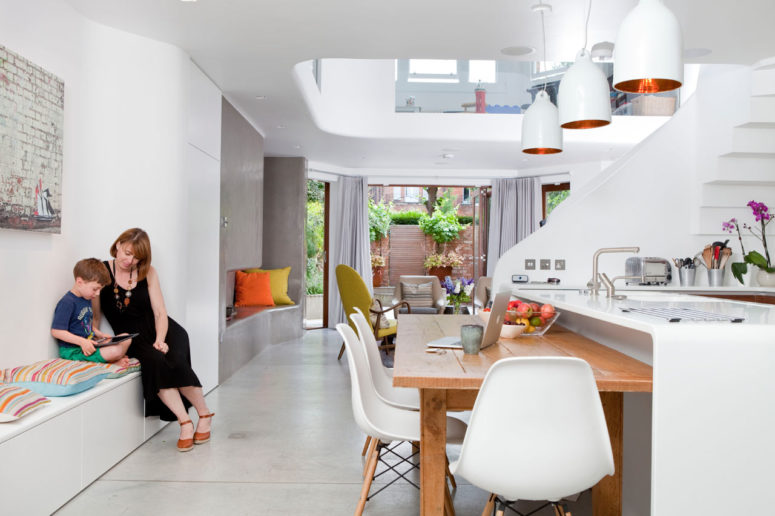 An original Georgian home in London, too narrow for what the homeowner's needs, underwent a full renovation thanks to Scenario Architecture. Along with those transformations, the Vertical Living residence was given an addition in the back to house a new, open kitchen, dining space, and sitting room. By making use of every inch of the home, Scenario was able to reimagine the layout so that it worked for their lifestyle.
The original ground floor and basement were barely used despite being allocated as reception rooms. The staircase was removed and the ground floor was cut out to create an open mezzanine allowing natural light to flow throughout, especially to the former basement. By connecting the two floors, designated uses were spread out between two making them less cluttered. The main color is white and the spaces are spruced up with brighter touches and metallic surfaces  to make them more eye-catchy.
The white kitchen flows into the living room with an abrupt transition into a smooth, grey wall that features an embedded fireplace and seating bench.
The master bath received a Japanese-style soaking tub that's integrated into the continuous finish that leads to the sink and storage underneath.
The deck is all clad with wood, there are sleek white benches and a table, some potted greenery and blooms and a creative built-in bench with storage units, all clad  with the same wood as the deck.