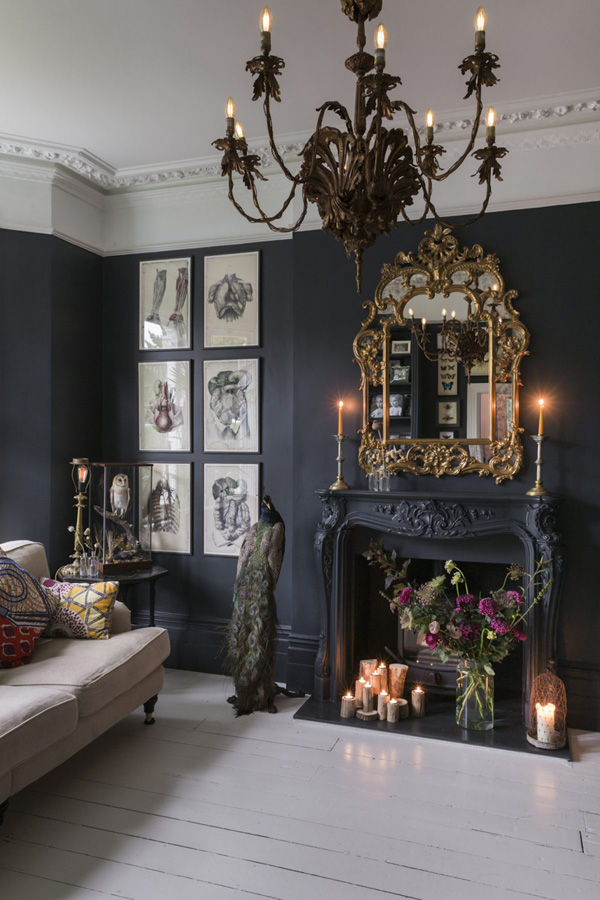 Ready for Victorian-inspired home perfection? This beautiful moody house is done in Victorian style with a touch of steampunk, looks unique and very stylish.
The living room features black walls and grey wood floors as a canvas for creating a moody Victorian interior. The refined fireplace with candles and a sophisticated gilded frame mirror over it creates a mood. Lots of bookshelves on the walls, mid-century modern furniture and greenery, taxidermy make the room moody and Victorian-like.
The dining space is a mix of industrial and vintage styles: there's an original brick wall, a rustic table and vintage chairs and antique chandeliers. The bricks are decorated with colored chalk.
The kitchen features black vintage-styled cabinetry with brass handles. As the furniture is dark, the walls are white, and the floor is light grey. The kitchen is very spacious and filled with light, this is because of windows and glass doors to the outside. only a neon light sign and stainless steel appliances remind that it's a modern space.
The master bedroom is an incarnation of decadence. The walls are shabby and worn, and there's even a sign of patina in the corner. The furniture is also shabby chic, and the bed is vintage. Rustic stools are instead of nightstands.
The kid's room is a colorful boho one, it contrasts with the whole house. Colorful textiles and eclectic furniture and accessories create an amazing ambience, which differs from the rest of the house but makes the child feel cheerful.
The bathroom is black and white with potted greenery, and it corresponds the Victorian style. the sink space is covered with the tiles that imitate decay and vintage.