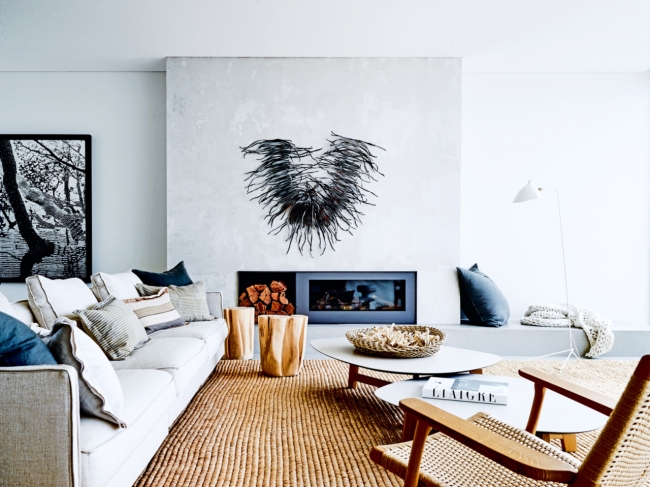 This beautiful Sydney home belongs to a couple with two small children. With architecture by Brian Bass of Popov Bass and interiors by designers Hare and Klein, this stunning space is a sophisticated take on beach style, with a focus on the colors and textures of the sea rather than the usual driftwood and seashells.
Bass captured the view with an ingenious split-level design — usually reserved for a sloping landscape rather than a relatively flat site such as this — so both front and rear of the house are soaked in light and vistas. A suspended staircase aids access to the view from the different levels. Curved walls don't just echo the ebb and flow of the ocean, they make the spaces flow, add softness and help pick up the view.
The décor is calm and relaxed, with washed-out tones and natural textured finishes. Subtle, natural tones in silvery greys and khakis soften and ground the spaces, and the darker elements actually recede. With driftwood tones and shards of white, the colors relate to the ocean ones.
Tactile finishes — including concrete, waxed plaster, sandblasted stone and timber — are echoed in the furnishings and accessories, such as paper-cord chairs, sisal rugs, woven baskets, knitted silk-and-cashmere pendants and wall sculptures. Even the shapes allude to the ocean, the organic coffee table recalling stones smoothed by the waves.
Oversize sofas, a banquet-size dining table and a massive architectural plan cabinet recast as a sideboard complement the generous, airy spaces, their ample proportions creating a dialogue with the smaller furnishings and accessories. Texture also comes from the interplay of large and small pieces.
Sea and sky meld into one when viewed through the three-metre-high sliding glass that fronts this clifftop aerie with bird's-eye panoramas. Fluid and dynamic, the space also owes a debt to Sydney's eastern suburbs, which stretch out behind. Combining coastal cool with city sophistication, this may be a beach home, but it's no beach house.