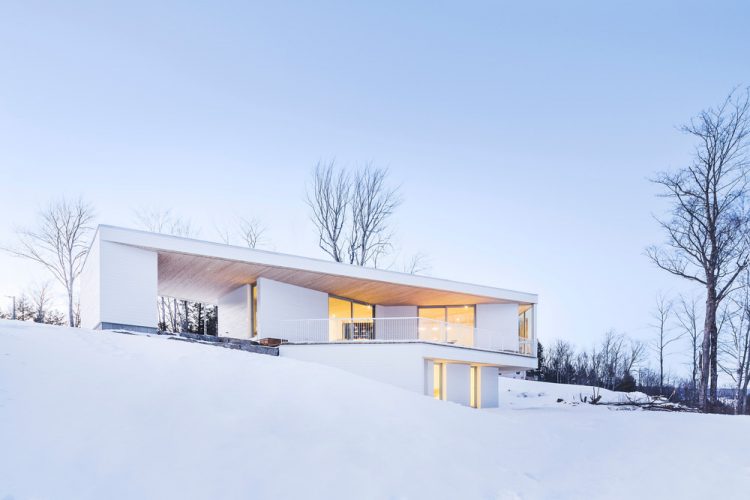 The Nook Residence by MU Architecture is located in a quiet area of the Eastern Townships in Quebec, Canada. Turning its back to the street, it offers a virtually blind facade that encourages discovery and piques curiosity. Strategically located windows and a large opening in the white mass give a hint at the beautiful scenery below.
The house clings to the steep terrain and seems to be projecting toward Lake Memphremagog. Like origami, the two volumes are linked by a dynamic bending ribbon that merges the roofs together.
Inside, the sequence of open living spaces on the ground floor unveils different views of the lake. Separating public from private spaces, a relaxation and contemplation area comes in as a pause in the architecture discovery course.
Polished concrete radiant floors, black ceramic tiles and walnut furniture punctuate the space with elegance. Two large bedrooms, a bathroom and a dormitory with apparent board-formed concrete walls mainly compose the ground level.
The décor is modern and nature-inspired, there aren't too bold solutions not to distract attention from the stunning views. There's a lot of natural light-colored wood used on ceilings and in décor, that gives the home a cozy look and makes it closer to nature. Panoramic windows give relaxing views of the outside and earthy and nature-inspired colors bind the interiors with the outside.
Acting as a landmark through the lush summer, the house changes with the seasons and its whiteness blends into the winter landscape as a tribute to the great Quebec winters.