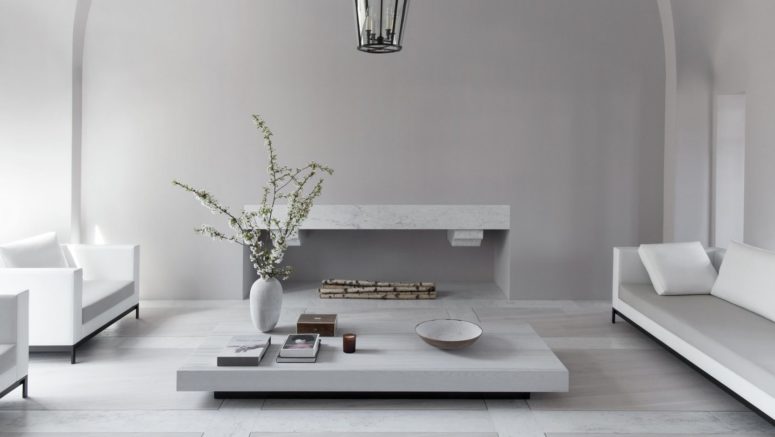 Looking at the images of this recently refurbished Parisian apartment, you will be surprised to learn that despite their monochromatic appearance they are not in fact black and white photographs but the result of the owner's design ethos.
The owner and designer, Guillaume Alan, chose a nuanced palette of white and grey shades in order to transform the grand, 19th-century Haussmannian residence into a sanctuary of spatial purity and refined elegance. He showed a monochromatic approach, far from producing a uniform environment, has created a lyrical interplay of light, depth and textures. Discreet, geometrical lines produce strictly defined, uncluttered spaces imbued with an architectural purity and sculptural finesse. Light gray brushed-oak floors, natural marbles, brushed-ash wood, raw linens, soft leathers, silks, and wools comprise a masterfully crafted, harmonious composition that envelopes the occupants in luxuriant softness.
Most of furniture comes from Guillaume Alan Collection and is based on his love for natural materials and rich texture and minimalist designs. The project also includes custom-made pieces like the dining room chairs, which were inspired by vintage Chinese armchairs, and the Corian-topped dining table which is balanced by textured brushed-ash wood. Every detail and accessory here is a perfect match and is thought over to create a polished feel. Get inspired by the beauty of these spaces looking at the pics below!